November 26, 2019
Using Transit Benefits for MARC and VRE Fares
Do you have employees enrolled in the SmartBenefits® program who would like to use their commuter benefits to ride the MARC or VRE train? Taking the MARC or VRE train is especially efficient for commuters traveling to/from Maryland and Virginia.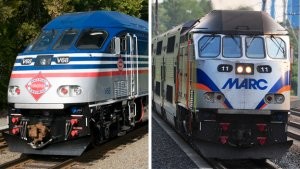 Spanning 187 miles, the MARC Train Service (MARC) is an integral component of Maryland's transportation system. This commuter rail operates Monday to Friday serving three lines between Washington, DC and Baltimore, MD; Washington, DC and Perryville, MD; and Washington, DC and Martinsburg, WV.
The Virginia Railway Express (VRE) connects Northern Virginia and Washington, DC with commuter rail service on two lines — one from Fredericksburg and one from Manassas. Stations are located at Crystal City, L'Enfant Plaza, and Union Station.
While MARC and VRE do not accept SmarTrip® to cover fares, commuters are permitted to use SmartBenefits® (via a registered SmarTrip® card) to purchase MARC and VRE rail tickets through Commuter Direct. As an employer, you can assist your employees with their commute by helping them get set up to receive commuter rail tickets. In return, you could increase employee retention and become a more sustainable business.
Follow these five easy steps to convert your employees' SmartBenefits funds to VRE or MARC train tickets:
Collect your employees' registered SmartTrip® cards to register them in the company's SmartBenefits® program.
Enroll your employees' registered SmartTrip® cards in the company's SmartBenefits® program by the 15th of the month.
Notify your employees to contact Commuter Direct by the 21st of the month to choose a pass they would like to receive for MARC or VRE transportation. Commuter Direct staff will then process the request.
Commuter Direct will mail your employees' MARC or VRE train tickets to their provided home address or instruct employees to pick-up the tickets at their closest station. Commuters will not be able to print their passes from the website.
For more information, contact Commuter Direct at (703) 228-RIDE or questions@commuterdirect.com.