June 5, 2019
Season Finale: The 2019 Ambassador Awards
goDCgo has made it through awards season! We celebrated DC employers on April 4th, hotels on May 23rd, and last but not least, our residential complexes on May 30th.
The 2nd annual Residential Ambassador Awards was held on Thursday, May 30th at the District Department of Transportation (DDOT). This year's ceremony started off with a morning of networking, breakfast by B.Lin Catering, and official award designations, followed by an informative but fun multi-modal scavenger hunt. Lee Goodall, DDOT's Chief of Staff, did the honors of presenting the awards to our Residential Ambassadors.
goDCgo recognized residential complexes for their commitment to sustainable transportation, providing on-site amenities and information to their residents, and continuously improving staff knowledge on transportation options. goDCgo has designated nearly 40 new Residential Ambassadors this year — which is the most yet: 21 Bronze, 3 Silver, 3 Gold, and 12 Platinum. Congratulations to all of our 2019 Residential Ambassadors!
Following the ceremony, attendees hopped on the Metro to head to our special multi-modal scavenger hunt! Starting at Gallery Place Chinatown Metro, the scavenger hunt included quiz questions that tested participants' knowledge on local sustainable transportation with questions like "How many Gallery Place Metro entrances are there?" and "How many Capital Bikeshare Stations are there?" The hunt also took our scavengers to certain locations like the giant transit displays found at one of the Gallery Place Metro entrances. It featured missions like finding a non-traditional or special edition SmarTrip Card and making a silly face at a bus shelter. Our participants from F1RST, Modern on M, 1001 Waterfront, and Frequency/UIP Property Management surely enjoyed themselves! Winners won their choice of a Visa gift card or annual Capital Bikeshare Membership.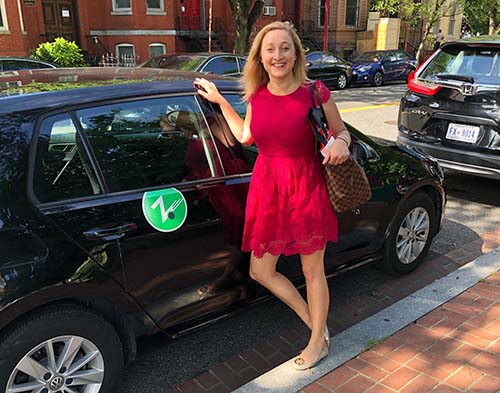 goDCgo's Residential Ambassadors Program has partnered with almost 100 residential complexes who now make it a priority to encourage residents to travel sustainably around the District. To learn how you can become an Ambassador, contact goDCgo today!