February 16, 2021
Riding Safe with DC Circulator
by goDCgo
The DC Circulator provides public transportation to the District's main attractions and most lively neighborhoods at a cost of only $1.* The system consists of 6 distinct routes across Washington, DC, crossing over into Rosslyn, VA, and provides close to five million trips a year. The Circulator services each stop every 10 minutes, providing simple, fast, and affordable transit to residents, commuters, and visitors around the nation's capital.**
DC Circulator's mission is to deliver affordable, comfortable, and efficient bus service that connects people to business, culture, and entertainment throughout the District. To support this mission, the DC Circulator has implemented transit safety policies to keep riders safe during the coronavirus (COVID-19) pandemic and beyond so you can ride with confidence.
Cleaning Procedures
The District Department of Transportation (DDOT) enhanced cleaning protocols to ensure that all 72 buses are properly deep cleaned and disinfected every night, so they are ready for you to use by 6am the next day. Every surface is wiped down meticulously with disinfectants approved by the Center for Disease Control and Prevention (CDC). See for yourself!
Safety Practices
In accordance with Mayor's Order 2020-066, passengers are required to wear a face mask or covering while aboard DC Circulator buses. DO YOUR PART! Learn how to properly wear your face mask or covering to support safe travel for everyone.

This applies to all customers, with the following exceptions:
Children under the age of 9 years old (NOTE: Parents are strongly encouraged to have their children between the ages of 2 and 9 years old wear a face mask or covering in accordance with local and federal guidelines).
Individuals who cannot wear a face mask or covering due to a medical condition or disability, or who are unable to remove a mask without assistance.
As an extra preventative measure, DC Circulator is installing bus driver shields and requires all of their drivers to wear a face mask or covering. In addition to properly wearing a face mask or covering, please take the following precautions to help prevent the spread of the coronavirus (COVID-19) while using Circulator bus services: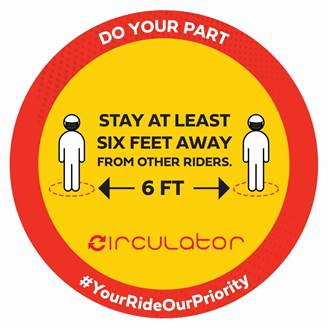 Practice safe social distancing. You'll notice 6 feet social distance markers and signage all around the bus to encourage riders to do their part. Keep 6 fee

t of distance between you and others whenever possible as recommended by DC Health and the CDC.
While onboard, consider leaving a seat between you and others.
Avoid touching high-contact surfaces.
Avoid touching your eyes, nose, and mouth with unwashed hands.
Cover your cough or sneeze with a tissue, then throw the tissue in the trash.
Carry hand sanitizer with you.
Follow DC Circulator for the latest announcements about upcoming distribution events where they'll be handing out FREE face masks, hand sanitizers, and reusable bus handles! Tentative schedule details below:
Wednesday, February 24 from 8-10am at Anacostia Metro
Monday, March 22 from 8-10am at 17th & K Street NW (near Farragut North Metro)
Thursday, April 22 from 4-6pm at Anacostia Metro
Thursday, May 6 from 4-6pm at Irving & 14th Street NW (near Columbia Heights Metro)
*DC Circulator fares are waived until further notice.
**Effective April 7, 2020, DC Circulator began operating Monday through Friday from 6am to 9pm and Saturday and Sunday from 7am to 9pm.