June 14, 2021
Perks of Real-Time Transit Displays
by Korrea Johnston
Ready to get real? Real-time transit displays, that is! Transit display screens show real-time information about local buses, trains, subways, bikeshare, and weather. Here in DC, that includes public transportation information about Capital Bikeshare, DC Circulator, Metrobus, Metrorail, Lyft, and Uber.
goDCgo encourages your property to consider getting a real-time transit display for your lobby to support sustainable travel habits among staff and residents. In return, you can get rewarded, too! The Residential Ambassadors Program recognizes residential complexes in the District for their efforts as transportation leaders, and it is designed to grow and showcase the positive impact your community has on DC residents. Installing real-time transit displays at your residential property could quickly get you designated as a Gold Level Ambassador!
What Is Real-time Transit Information?
Real-time transit information (RTTI) encompasses trip duration, estimated arrival time, vehicle availability, and any other applicable details related to live local public transportation. Transit agencies and other transportation providers easily offer access to this information through mobile and web-based apps like Google Maps, Citymapper, CityMotion, Transit, and TripGo. However, multi-family and commercial buildings are able to provide all transportation options in real-time specific to the property location. Providing RTTI is important for residential buildings, no matter the location. Screens that provide real-time transit and other transportation information have become an amenity valued by both staff and residents.
Why Is RTTI Important?
By offering real-time transit options right in the lobby on an easy-to-read monitor, you are providing a residential amenity that can improve staff and resident scheduling and reduce commute times. Research shows that when bus riders have RTTI, they're able to shorten their wait times and experience less anxiety.
Mobility Lab, a federally-funded initiative to examine the impacts of transportation demand management in nearby Arlington, VA, performed a study to find out how important RTTI is to riders and its role in making transit more attractive in Arlington County, VA. Mobility Lab's extensive review of published research indicates that having RTTI produces positive changes in riders' behavior, improves perceptions of transit service, and grows ridership. The project research also uncovered the following:
81% of respondents agreed that "having real-time arrival information is important when using public transportation" and that "having real-time information when using public transportation helps me relax" (73% mostly or strongly agree).
65% of respondents check for real time arrival information before leaving home.
Other primary perks of providing real-time transit screens include decreased wait times, reduced travel times, and increased transit ridership. RTTI can increase transit use in urban areas like DC that have frequent transit service. For instance, when riders see the bus is only a few minutes away, they're more likely to hop on. By providing RTTI in your residential building, you have the opportunity to influence travel behavior and support sustainable lifestyles. It gives staff and residents the ability to choose the best mode for any given trip.
How to Get Real-time Information in Your Lobby?
A number of companies provide real-time transit displays for residential buildings. Most only require that you have a TV screen/monitor and Wi-Fi connection to get started. Check out our Residential Vendor Amenity Guide for specific vendor information.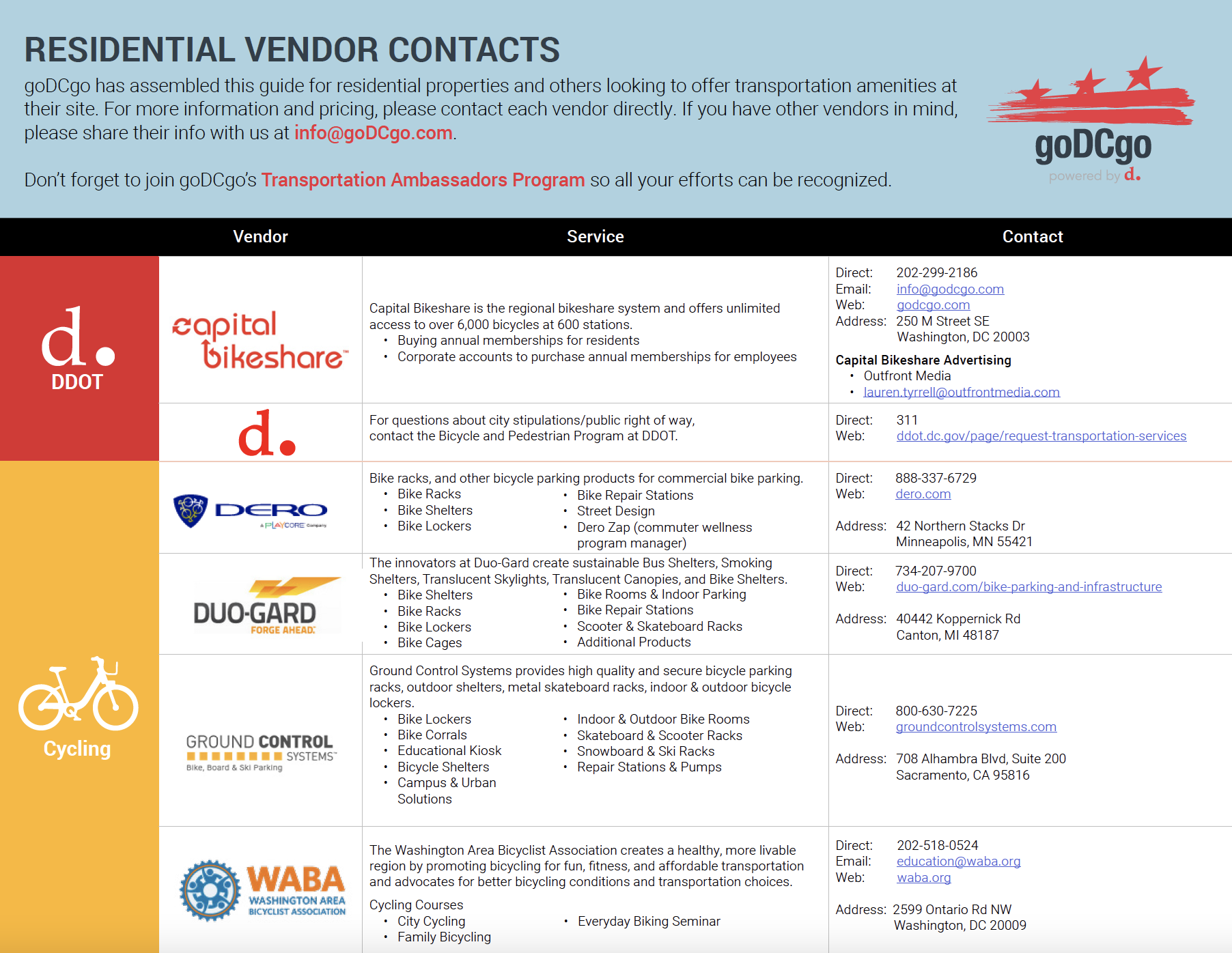 For more ideas on how to stand out in DC's residential market, contact Casey Auch for complimentary assistance!