April 27, 2021
Pandemic Recovery: Reducing Traffic Congestion
by goDCgo
Since the onset of the coronavirus (COVID-19) pandemic, the District has experienced a decline in traffic due to many of us working from home. However, there's evidence that people may actually be driving more for non-commute trips. Many individuals have shifted to driving outside of work for recreation and to run errands, visit stores, workout at the gym, go out to eat, etc., leading to an increase in personal vehicle trips. And as people start returning to workplaces, our commute choice plays an integral role in helping to mitigate traffic congestion. goDCgo encourages you to do your part and travel sustainably by foot, bike, bus, scooter, Metro, or rideshare.
Additionally, being able to telework has major implications for the environment, because in the U.S., transportation is the biggest source of greenhouse gases. So, if you have the option to work remotely, you can help fight climate change and improve the air quality in DC and beyond.
goDCgo has put together some options for you to consider!
Active Transportation
Active transportation modes like biking and walking are good for your health, your wallet, and the environment by providing you with exercise, saving money on car expenses, and reducing pollution/improving air quality. If you live within a half mile from your physical worksite or local conveniences, consider active transportation. You can save money on your gym membership by getting your exercise in during your commute or errands.
Scooters, Electric Bikes, and Mopeds
Easily accessible and available 24/7 across all eight wards, dockless vehicles like electric bikes, scooters, and mopeds are convenient, affordable ways to get around that allow you to social distance. These options are reliable, whether for your commute or a run to the pharmacy. They can get you there fast or connect you to local transit – and you don't need to dock them!
Prices vary by provider. Dockless vehicle providers currently permitted to operate in Washington, DC include Bird, Bolt, Helbiz, Jump/Lime, Lyft, Razor, Revel, Skip, and Spin. Download their mobile apps to get rolling!
Capital Bikeshare
With 6,000 bikes and 600 stations across the DC metro area, Capital Bikeshare is another convenient transportation option. You can purchase a single trip for just $2, a 24-hour pass for $8, or an annual membership for $85 a year. If eligible, you could get an annual membership for only $5 through Capital Bikeshare for All!
Download the Capital Bikeshare app to find your closest station and to rent a bike. To make your ride even easier, Capital Bikeshare also offers pedal-assist ebikes for an extra $1 unlocking fee.
Public Transportation
Here in DC, you can ride with confidence knowing that the safety of all riders and employees is top priority. Transit providers continue working hard to provide reassurance that service is as safe as possible and social distance and mask wearing protocols are followed. The District offers a wide variety of public transportation options including the bus; the Metro; DC Streetcar; and Amtrak, VRE, and MARC trains. While DC Streetcar is always FREE, these public transit providers also offer discounted programs for eligible residents. Join the growing 36% of commuters who already take public transit!
DC Circulator
You can ride safe with DC Circulator, which delivers affordable, comfortable, and efficient bus service connecting people to popular destinations, businesses, and entertainment throughout the District. Fares only cost $1, payable by cash or SmarTrip® card.*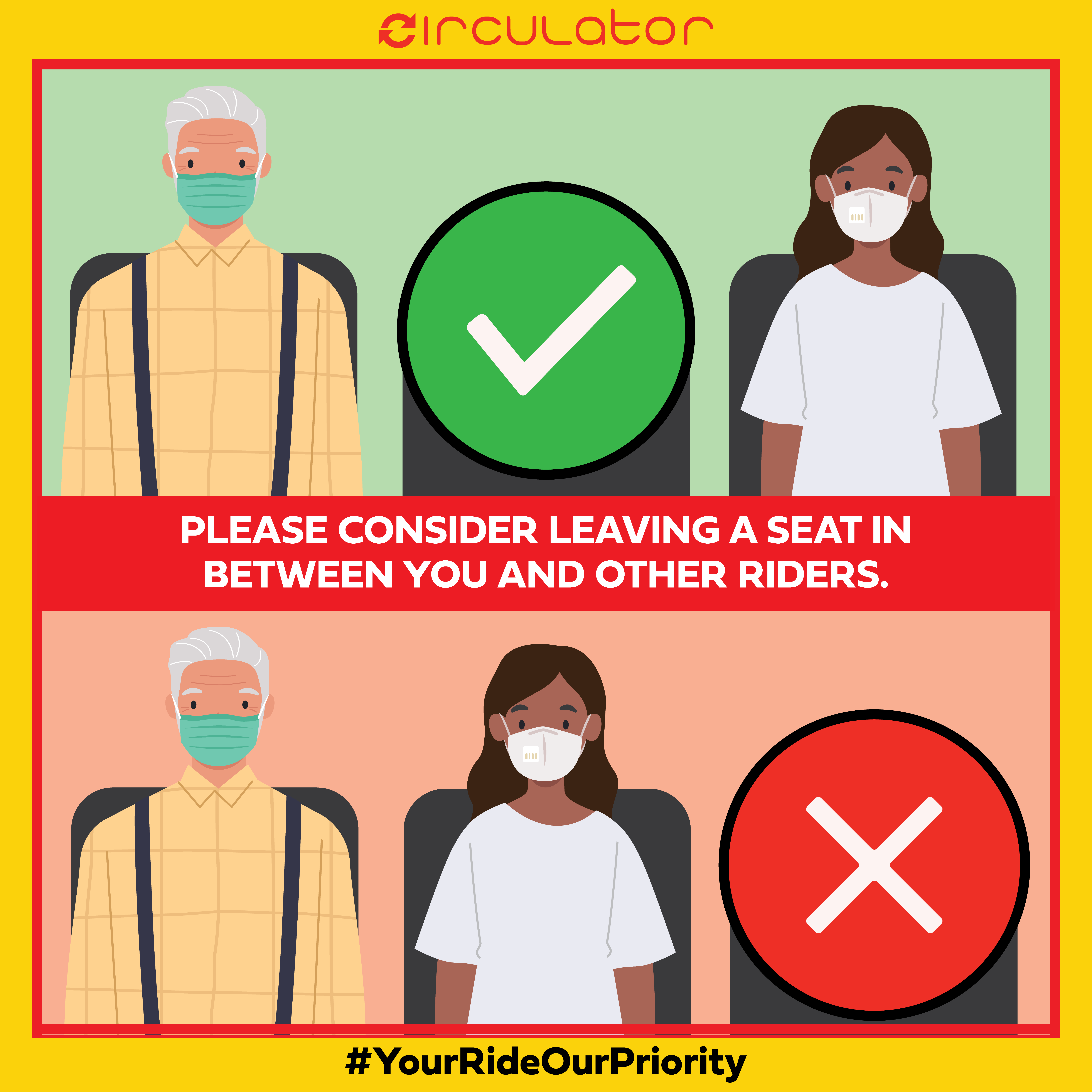 Below are just a few of their coronavirus (COVID-19) transit safety policies:
All 72 buses are required to be properly deep cleaned and disinfected every night.
Drivers and passengers are required to wear a face mask or covering while aboard DC Circulator buses.
All 72 buses have bus driver shields installed for extra preventative measures.
Keep 6 feet of distance between you and others whenever possible.
While onboard, consider leaving a seat between you and others.
Avoid touching high-contact surfaces.
*DC Circulator bus fares are suspended until further notice.
Metrobus
Operated by the Washington Area Metropolitan Transit Authority (WMATA), Metrobus services the entire DC metro area, connecting you with other local transit providers. Fares start at just $2, payable by cash or SmarTrip® card. WMATA also offers reduced fare programs for qualified residents.
To better inform your travel decisions, be sure to check for bus crowding using real-time information available in WMATA's online bus tracker tool or Google Maps. Based on public health guidance for effective social distancing, you can see icons showing whether a bus has "many seats available" (less than 25% occupied), "few seats available" (25-49% occupied), or "full" (50% or greater occupied). This publicly available data is collected by sensors aboard every bus that counts whenever riders enter and exit. Now integrated with WMATA, you can also get real-time travel information using the Capital Bikeshare mobile app.
Metrorail
Also operated by WMATA, Metrorail serves 91 stations across DC, Maryland, and Virginia. Fares vary by time of day and the distance between stations, payable by cash or SmarTrip® card. WMATA's reduced fare programs also apply toward the Metrorail.
When planning your trip, be sure to check peak travel times using real-time crowding information available in Apple and Google Maps, or the Capital Bikeshare mobile app. Metrorail doors are not equipped with the same Metrobus sensors, but typical passenger level predictions are still available based on trends from recent crowding data. The rail car information is represented in tracking apps as "many seats available" (less than 20% occupied), "few seats available" (20-32% occupied) or "full" (33% or more occupied).
Rides via Mobile App
If you live a car-free or car-lite lifestyle, traveling longer distances or accessing transit that's over a half mile away may pose challenges. Services like Lyft and Uber provide on demand rides via mobile app that can get you there and also connect you to the nearest transit station. The apps also provide access to real-time Metro and bus information so you can plan your trip with ease. Also, when Capital Bikeshare is available near your destination, a bike icon will appear on the home screen of your Lyft app. You can easily tap to see nearby stations, then tap "Unlock a bike" and enter the resulting code into the keypad on the dock.
Carpool
Carpooling is a form of ridesharing in which two or more people drive together (share the same vehicle) to get to work. Carpools usually consist of work colleagues who live near each other or employees of different companies located only a short distance apart and have the same work hours. Sometimes, carpoolers use personal vehicles to take turns driving. Need help finding another rider? The Commuter Connections Ridematching Service connects people interested in carpooling for FREE! Some employers also help organize carpools and provide incentives for carpooling. Ask your employer about your company's commuter benefits.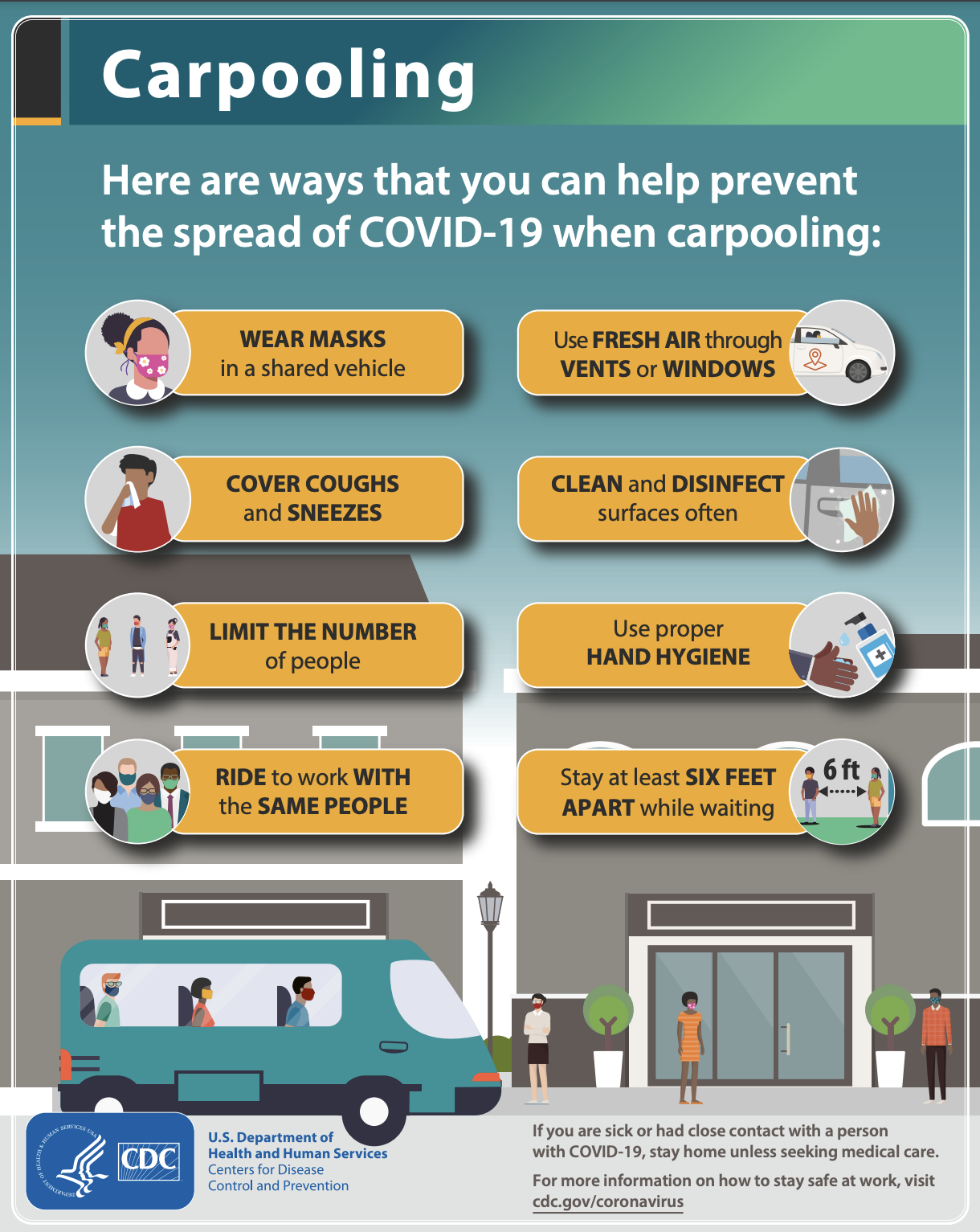 When carpooling, keep yourself and your colleagues safe by following some tips from the CDC:
Properly wear a face mask/covering for the duration of your trip(s).
Circulate fresh air by keeping the windows down or using air vents.
Consistently keep the same rider(s).
Use proper hand hygiene.
Clean and disinfect surfaces in the vehicle often.
Don't overcrowd the vehicle you ride in.