January 21, 2021
No Blue Line Metro Service: Know Your Travel Alternatives
by Korrea Johnston
As of December 2020, WMATA's multi-year Platform Improvement Project (PIP) hit a milestone by passing the 50% completion mark, with 11 of 20 total stations now completed — and the project continues to push forward. Beginning Saturday, February 13 to Sunday, May 23, WMATA will perform the next phase of its PIP to repair and reconstruct platforms at two stations on the Blue Line: Addison Road and Arlington Cemetery. As a result, there will be NO Blue Line service. To help you plan accordingly, goDCgo has outlined some of your travel alternatives below.
During this time, FREE shuttle bus service will be available. Additional Yellow Line trains will replace Blue Line trains between Franconia-Springfield and Mt Vernon Square. Silver Line trains will continue to pass through but not serve Addison Road while the station is closed to minimize service impacts outside the construction area.
Transportation Options to/from DC
Shuttles
FREE shuttle service will operate Monday through Friday from 5am to 11pm; Saturday from 7am to 11pm; and Sunday from 8am to 11pm.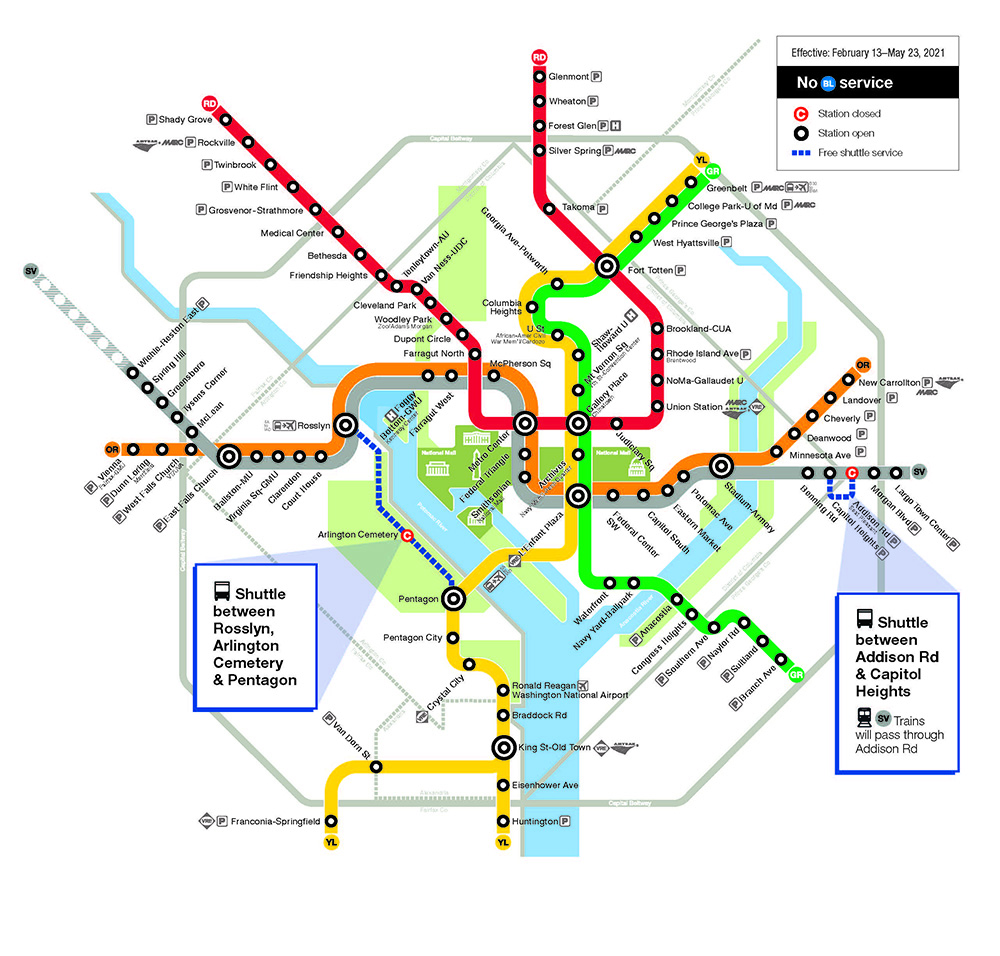 Service between Addison Road & Capitol Heights operates every 6 minutes on weekdays and every 8 minutes on weekends.
Service between Rosslyn, Arlington Cemetery & Pentagon operates every 12 minutes on weekdays and every 15 minutes on weekends. Shuttles do not stop at Arlington Cemetery after 7pm.
Bus
When riding the bus, all passengers are required to properly wear a face mask or covering for the duration of their trip(s) as part of the coronavirus (COVID-19) safety protocols. It's also highly advised that you leave an open seat between you and other passengers.
Metrobus has multiple routes that connect DC and Virginia residents to nearby Metro stations. Fares start at $2, cash or SmarTrip card, or download the SmarTrip app for a contactless way to pay.

23A & 23B – Service between Ballston and Crystal City (operates daily)
C21 & C22 – Service between Addison Road and Largo Town Center (operates Monday to Friday)
C29 – Service between Addison Road and Largo Town Center (operates Saturday to Sunday)
F14 – Service between Naylor Road, Addison Road, Capitol Heights, and New Carrollton (operates Monday to Saturday)

Arlington Transit (ART) is Arlington's local bus service that supplements Metrobus with cross-county routes and neighborhood connections to Metrorail and Virginia Railway Express (VRE).

ART 43 – Service between Court House, Rosslyn, and Crystal City (non-stop between Rosslyn and Crystal City, operates Monday-Friday)

Fairfax Connector is the largest local bus system in Northern Virginia transporting about 30,000 residents on 91 routes daily. (Weekday rush hour service only; eastbound in AM, westbound in PM)

599 – Service between Reston, Pentagon, and Crystal City, non-stop between Reston and the Pentagon (operates Monday to Friday; AM rush eastbound; PM rush westbound)
698 – Non-stop service between Vienna and Pentagon (operates Monday to Friday; AM rush eastbound; PM rush westbound)
393, 394, 395 & 396 – Peak (rush hour) service to Pentagon
310 – All day service to Metrorail Yellow Line and DC
306 – Pentagon on Braddock Road (off peak)
Bike
Whether you rent or own a bike, it's a great alternative travel option that allows you to practice safe social distancing. There are easily-accessible multi-use trails, like Mount Vernon Trail and Rock Creek Trail, that connect you to/from the District and Virginia.
Capital Bikeshare has over 5,000 bikes and 600 stations across the DC metro area, making it an easy and cost-effective way to navigate the station closures and connect to the nearest open Metrorail stations.
You can use a personal bike to get to your nearest open Metrorail station where secure bike parking is available. You can also bring your bike on board the Metrorail at any time.
Train
Make sure you properly wear a face mask or covering for the duration of your trip(s) as advised by all of the DC metro area's public transit agencies and try to leave an open seat between you and other passengers.
VRE provides service Monday to Friday on its Fredericksburg and Manassas lines from Northern Virginia suburbs to Union Station and L'Enfant Station.
Rideshare*
If you share a ride, be sure to limit two people in the car — one driver and one backseat passenger. You should also wear a face mask or covering and ride with the window down for the duration of your trip(s).
Commuter Connections' Ridematching program will match commuters with a carpool or vanpool – reducing road congestion and freeing up parking.
uberPOOL, Lyft Line, and Via allow commuters to share the ride with others in the same direction and pay less for your trip. Grab a ride using the provider's mobile app.
eRideShare, SAMERIDE, and Waze Carpool are mobile apps that connect commuters going the same way in DC and Virginia.
The Vanpool Alliance helps riders find vanpools that start or terminate in Northern VA through their free Vanpool Finder service.
Sluglines assists drivers bound on the I-395/I-95 and I-66 corridors by reaching the HOV passenger requirements. Riders receive a free ride. Find pick-up and drop-off locations.
Taxis can be easily located and hailed around the Northern Virginia area with 24-hour dispatch service.
*Please be advised that shared rides may temporarily be paused due to the coronavirus (COVID-19) pandemic.
Carshare
Zipcar allows members to reserve and rent a car from a designated location for as little as an hour and never requires members to pay for gas.
Alternative Work Schedules
Telework is an employer-approved arrangement that allows you to work from home or an alternate location to skip the commute entirely. Ask your employer about a telework arrangement as an alternative for the Blue Line shutdown.
Flexible scheduling allows you to report to work outside of standard hours so you can avoid peak travel times. Ask your employer about non-traditional flexible options by permitting employees to arrive or leave work at different times; or developing staggered scheduling shifts to help employees avoid rush-hour traffic congestion and transit overcrowding.
However you choose to get around the Blue Line shutdown, remember to commute with care. For a full list of resources and information on how to navigate this next phase of Metro's PIP, download goDCgo's Toolkit for Riders or visit our dedicated Platforms page.