May 20, 2020
Metro Summer Shutdown: Orange/Silver Line Travel Alternatives
by Korrea Johnston
Prepare yourselves! This summer, WMATA will initiate phase two of its Platform Improvement Project by reconstructing platforms at four Orange Line stations and connecting the Silver Line to new stations in Metro's network. To finish the project on time, all stations west of Ballston will be closed starting Saturday, May 23, 2020: Vienna, Dunn Loring, West Falls Church, East Falls Church, Wiehle-Reston East, Spring Hill, Greensboro, Tysons Corner, and McLean. Ballston-MU station will remain open and serve as the western destination on the Orange Line. Silver Line service will be temporarily suspended. You should allow extra travel time and start planning alternatives if your commute will be affected.*
*Please be sure to check the transit providers' websites for any updates or changes to schedules given the public health crisis.
Here's what you need to know:
Orange Line service will run from Ballston to New Carrollton.
NO Silver Line service will be available.
FREE shuttle buses will be available. The following three shuttles will operate Monday through Friday from 5am to 9pm; and Saturday through Sunday from 8am to 9pm. All shuttles run approximately every 10 minutes on weekdays and every 15 minutes on weekends.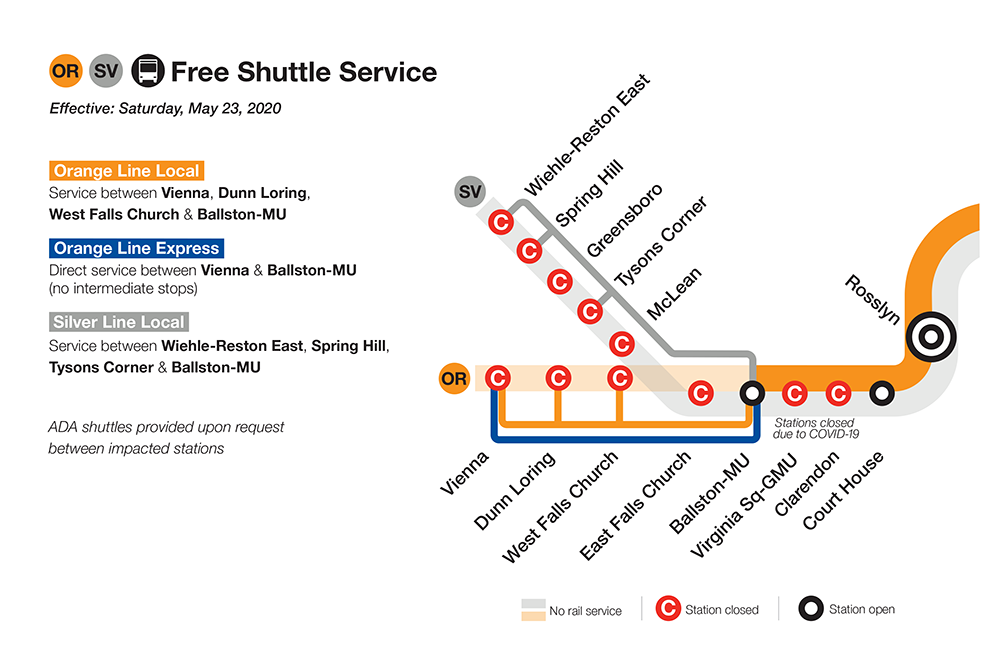 Travel Alternatives to and from DC:
Bus Alternatives
Commuters at the affected Metrorail stations will have access to FREE shuttle services that will connect riders from closed stations to open Metrorail stations (see map above). Shuttle services vary by time and request. In addition to FREE shuttles, you can use local Metrobus, Arlington Transit (ART), Fairfax Connector, and OmniRide routes to connect to nearby open Metrorail stations.
Bike Alternatives
Capital Bikeshare: R

ates start at $2 for a 30-minute trip. With 35 stations in Fairfax County, 9 stations in Falls Church City, and over 250 in the District, Capital Bikeshare is an easy and cost-effective way to navigate station closures and connect to the nearest open Metrorail stations.

East Falls Church Metro – Sycamore St & 19th St N
Dunn Loring Metro – Gallows Rd & Avenir Pl
Wiehle Ave Metro

Wiehle Ave & Reston Station Blvd
Campus Commons
Sunset Hills Rd & Isaac Newton Square

Spring Hill Metro – Spring Hill Metro
Greensboro Metro

Westpark Dr & Leesburg Pike
Greensboro & Pinnacle Drive
Greensboro & International Dr

Tysons Corner Metro

Tysons Corner Station
Tysons One Pl & Chain Bridge Rd
Towers Crescent Dr & Tysons One Pl

McLean Metro – McLean Metro
Scooters and Dockless Bikes: Scooters and dockless bikes can easily be located in the District and Northern Virginia and unlocked using the provider's mobile app.

Northern VA – Bird, Lime, Spin (Dockless operators may vary by jurisdiction.)
Washington, DC – Helbiz, Jump, Lyft, Skip, Spin
Train/Rail Alternatives
VRE: This train system

provides service Monday-Friday on its Fredericksburg and Manassas lines from Northern Virginia suburbs to Union Station and L'Enfant Station.
Trail Alternatives
Mount Vernon Trail: Mount Vernon Trail is an 18-mile paved multi-use trail that stretches from George Washington's Mount Vernon Estate to Theodore Roosevelt Island, connecting with regional trails.
Rock Creek Trail:

Rock Creek Trail is an 8.5 mile asphalt/dirt multi-use trail with multiple end points in DC.
Non-Public Travel Alternatives to and from DC:
Telework: Working from home 1-2 days a week will ease your commute and allow you to maintain productivity. If your employer doesn't already have a telework policy in place, we can help them get started. Contact goDCgo at 202-299-2186.
Alternative Work Schedule (AWS): Take a different approach to working through non-traditional work hours, locations, and/or job structures. Options include flexible scheduling, staggered shifts, and compressed work schedules. If your employer doesn't already have an AWS policy, contact goDCgo for training and support.
*Please be advised that shared rides may be temporarily paused due to the public health crisis.
Download our WMATA Platforms Project: Toolkit for Riders for a full list of resources and information on how to get between Fairfax, Falls Church City, and Washington, DC using public transit and other alternatives. Visit our platforms page for more details and updates.