November 26, 2019
How to offer Metro's newest flexible passes
by Samantha Huff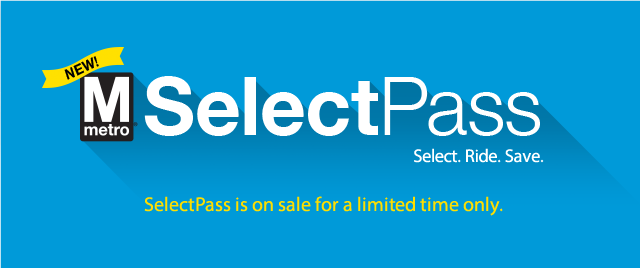 Metrorail commuters can now purchase an unlimited monthly pass at a wide variety of price points through SelectPass. Riders whose one-way Metro fares typically cost between $2.25 and $4.00 can sign up for a SelectPass and receive unlimited rides for the price of 18 rides at their usual price point. Commuters may save up to 20% on their regular commute costs while getting additional trips for free.
What does this mean for commuters and employers enrolled in Metro's SmartBenefits® program?
It takes just a few steps for commuters to use their benefits for a SelectPass. Traditionally, employers allocate most SmartBenefits funds to the "Transit" benefit category, which covers all standard Metro and bus fares. If an employee wishes to join the SelectPass program, the company's account administrator will change the employee's benefit type from "Transit" to "Transit Pass".

The company's SmartBenefits account administrator will:
Log into their SmartBenefits employer account and visit Program Management.
Create a new Benefit Category – or locate the existing category – for the requested dollar amount using the Transit Pass Rollover or Transit Pass Non-Rollover benefit type, depending on your organization's policy.
Assign the correct Transit Pass Benefit Category to the employee by the 15th of the month.
The employee will be able to redeem the Transit Pass benefits starting the 1st of the following month.
Please note that any additional funds needed for standard Metro or Metrobus fares should remain in the "Transit" benefit category.
For detailed employer instructions, review Pages 4-5 of the Getting Started with SmartBenefits Reference Guide.
On the first day of the new benefit month, the employee will:
Log into their SmarTrip account and select "Add Pass/Set Up Auto Reload".
Follow the prompts to set up a SelectPass at the price point desired.
Charge the purchase to "Transit Pass Benefits", which were set up by the company's SmartBenefits account administrator in the previous month per the above steps.
For detailed employee instructions, review the SmartBenefits Transit Pass Benefit Employee Overview.
For further assistance, SmartBenefits account administrators should contact their SmartBenefits account representative or call SmarTrip Customer Service at 888-762-7874.
Commuters may visit this website to see if SelectPass is right for them.