December 19, 2018
goDCgo's 2018 Year in Review
2018 has been great to goDCgo and we couldn't have done it without your partnership! It was a milestone year for us; we hosted an open house to introduce our new team, co-hosted the inaugural DC Bike Fair with Capital Bikeshare, hosted our first-ever Residential Ambassador Awards, and produced the 2018 DC Bike Map. But it doesn't end there — with your support we have helped 28,767 individuals switch to a sustainable mode of transportation and as a result, eliminated 27,998 daily vehicle trips and 492,995 daily miles traveled!
Check out more of our favorite moments from 2018:
Bike to Work Day 2018
On Bike to Work Day, we provided information and swag to 28 pit stops across the District, encouraging local commuters to travel to work by bike. Useful items we handed out included DC bike maps, bike straps, DC law pocket guides, and a host of custom swag from goDCgo, DC Streetcar, Capital Bikeshare, and DC Circulator.

Spring Pedal Push
In an effort to encourage biking in the District, goDCgo teamed up with Capital Bikeshare to offer DC employers a special promotion to join Capital Bikeshare's Corporate Membership program. Through the Spring Pedal Push campaign, we established 20 new Capital Bikeshare Corporate Accounts — a 12% increase in overall memberships.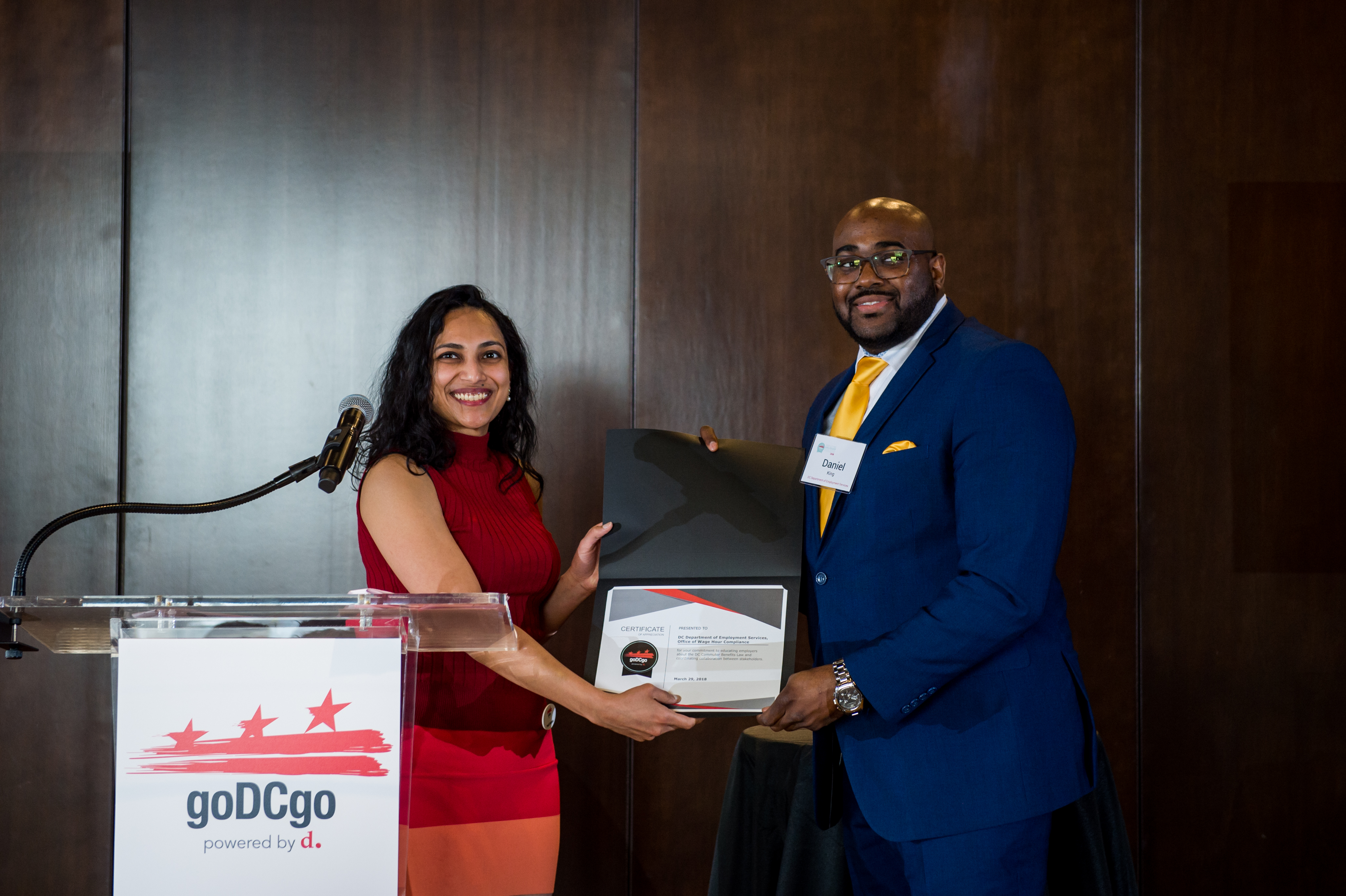 Recognizing Your Commitment to Sustainable Transportation
goDCgo appreciates your commitment to sustainable transportation and will continue to give you the recognition you deserve! Not only did we host our first-ever Residential Ambassador Awards this year, but we also held our second annual Employer Ambassador Awards where we recognized seven DC organizations for their exemplary transportation programs.
goDCgo also launched the Transportation Ambassadors Program this year. The tier-based program is designed to support and recognize DC employers, hotels, and residential properties that offer robust transportation programs and amenities. Learn more about each program and how to receive an official goDCgo designation.
Residential Ambassadors Program in its inaugural year saw great success with over 75 new designated properties.
Hospitality Ambassadors Program welcomed 20 new lodging providers in the District to the program.
Employer Ambassadors Program was launched last month to recognize employers committed to promoting sustainable transportation. With over 800 employers already offering commuter benefits, it's without a doubt that this program will bring continued success.
While it's been an exceptional year for goDCgo, we look forward to an even better 2019! Whether you want to initiate or enhance your commuter benefits program; offer transportation amenities to your employees, residents, or guests; or maybe even find an alternate commute, goDCgo is here to assist you with our complimentary services.
Have a Happy New Year!