December 20, 2021
Free Teleworking Spaces
by Samantha Huff
As teleworking continues into the new year, many remote employees are looking for space outside of their home or hotel rooms to telework occasionally or on a regular basis. Whether you need a change of scenery, to get away from distractions at home, or are visiting the area and need a place to work, the District has many free teleworking spaces that residents, commuters, and visitors can use.
Museums
Many museums in the District are free of charge, offer public Wi-Fi, and have comfortable sitting spaces or courtyards to work remotely. During your break from work, you can even stroll around the exhibits.
Espresso Bar at the Museum of the American Indian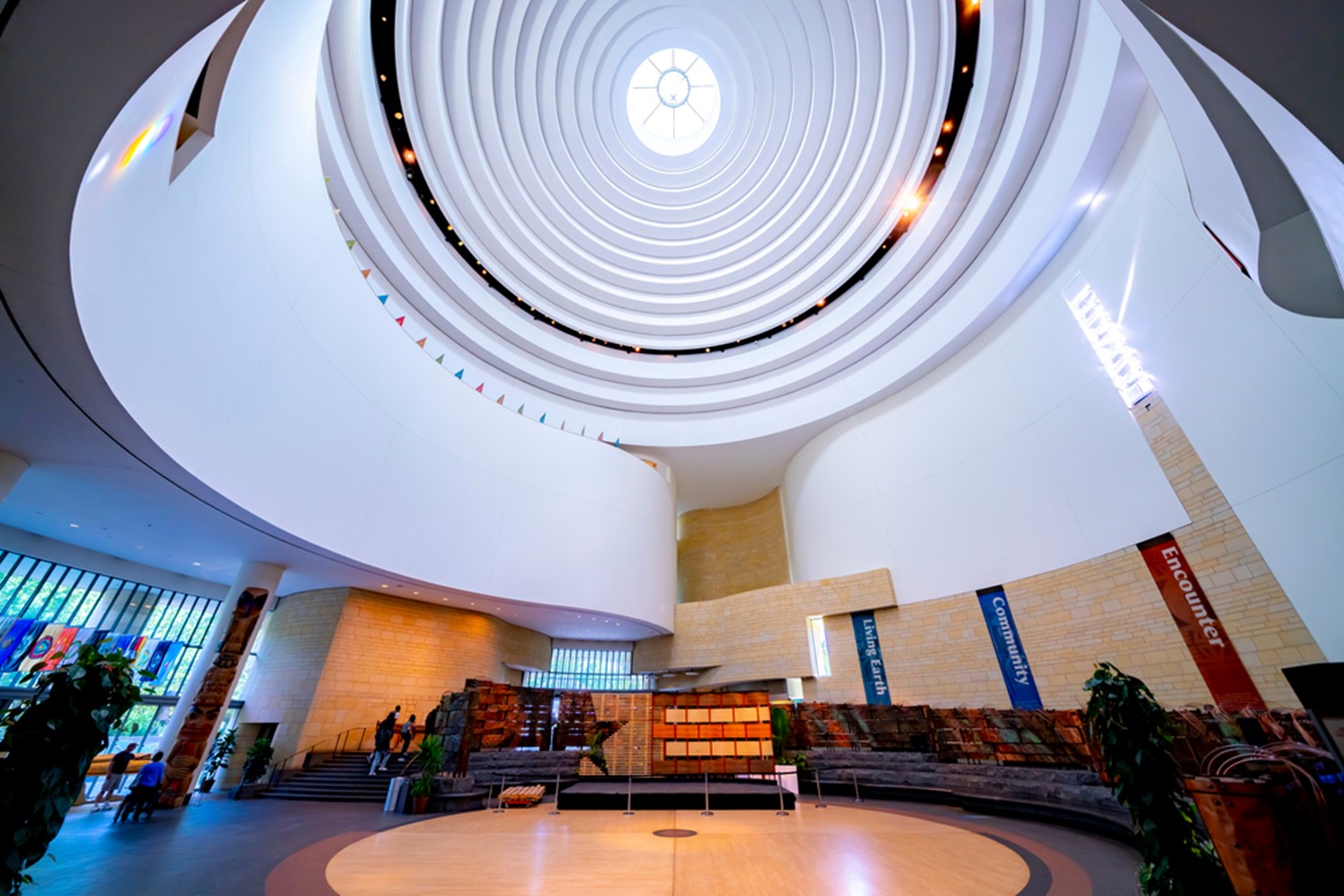 Photo courtesy of ItzaVU, shutterstock.com
Adjacent to the Potomac Atrium, the heart of the museum, the Espresso Bar offers coffee, pastries, tables and free Wi-Fi. The espresso bar is open to visitors from 10 am-5 pm Wednesday through Sunday.
How to Get There: The nearest Metro station L'Enfant Plaza (Blue/Orange/Silver/Green/Yellow lines – exit toward Maryland Ave/Smithsonian Museums) is two blocks away. Metrobus lines 30, 32, 34, 36 service the bus stop outside the museum at Independence Ave & 4th. The closest Capital Bikeshare station is Washington & Independence Ave SW.
Kogod Courtyard at the National Portrait Gallery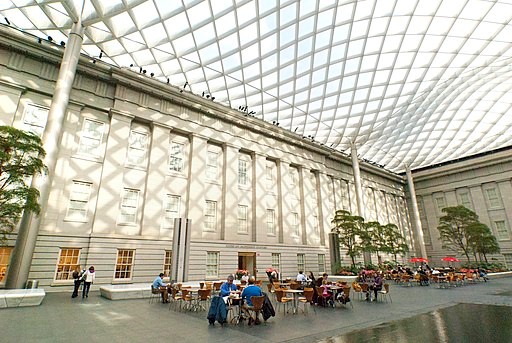 Zack Frank, Smithsonian American Art Museum, CC BY-SA 3.0, via Wikimedia Commons
This enclosed courtyard with free Wi-Fi, a ton of natural light, high ceilings, and wide-open spaces makes it easy to work and social distance. The café in the courtyard offers coffee, snacks, and other refreshments. The courtyard is open from 11:30 am-7 pm Wednesday to Sunday.
How to Get There: The nearest Metro station Gallery Place/Chinatown (Yellow/Green/Red) is one block away from both the 7th and 9th street Metro exits. Metro bus lines 70 & 74 service the 7th St & F St NW bus stop. Visitors can also take DC Circulator's Georgetown-Union Station route and exit at either the 7th & K or 9th & K Street stops. The closest Capital Bikeshare station is 7th & F St NW.

Libraries
Libraries are for more than just books; in fact, they are a great spot to work remotely if you need to hunker down and focus. With free Wi-Fi, table space, and a quiet atmosphere, libraries can provide you with the environment you need to stop procrastinating and get work done. Some libraries are even creating specific teleworking spaces for remote workers.

Martin Luther King, Jr. Memorial Library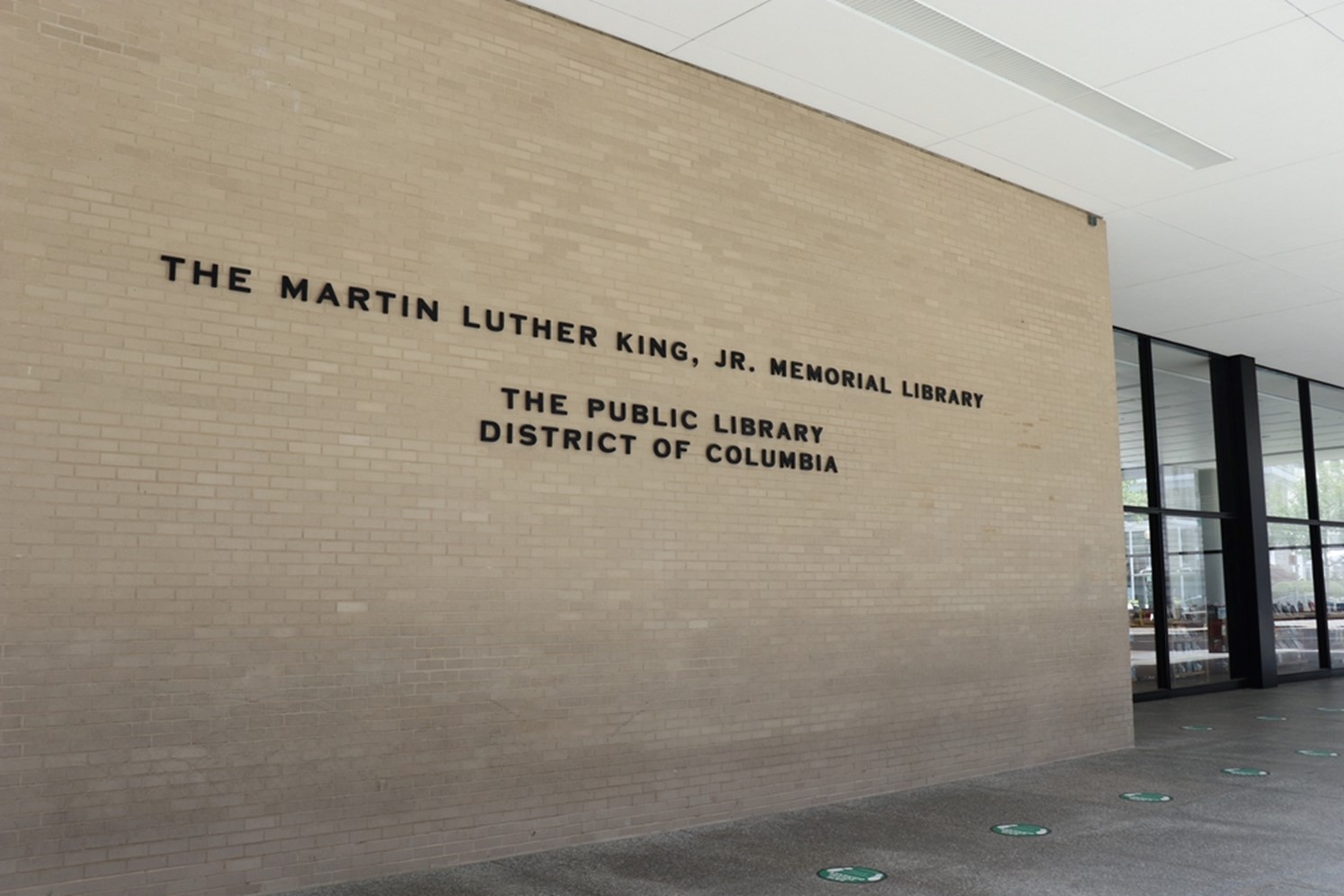 Photo courtesy of Alejandro Guzmani, shutterstock.com
This newly renovated library offers free Wi-Fi, outlets, meeting rooms, and more all surrounded by art showcasing the history of the civil rights movement and Martin Luther King Jr's life. On the first floor, you will find the digital commons wing with private meeting spaces, smartboards, and computers. On the third floor in the great reading room, you will find open space, tables, chairs, and outlets perfect for settling in and getting work done. Looking to get some fresh air during your break? Check out the new rooftop terrace and green roof, the perfect place to destress between meetings. The library is open from 10 am-8 pm Monday and Tuesday, 10 am-6 pm Friday and Saturday, and 1 pm-5 pm on Sunday.
How to Get There: Both Metro Center and Gallery Place-Chinatown metro stops are a few blocks away, while bus lines 80, P6, X2, and X9 service the bus stop on H & 9th NW and 70 and 74 service the stop on 7th and G St NW. The closest Capital Bikeshare station is 10th & G St NW.
Watha T. Daniel Shaw Library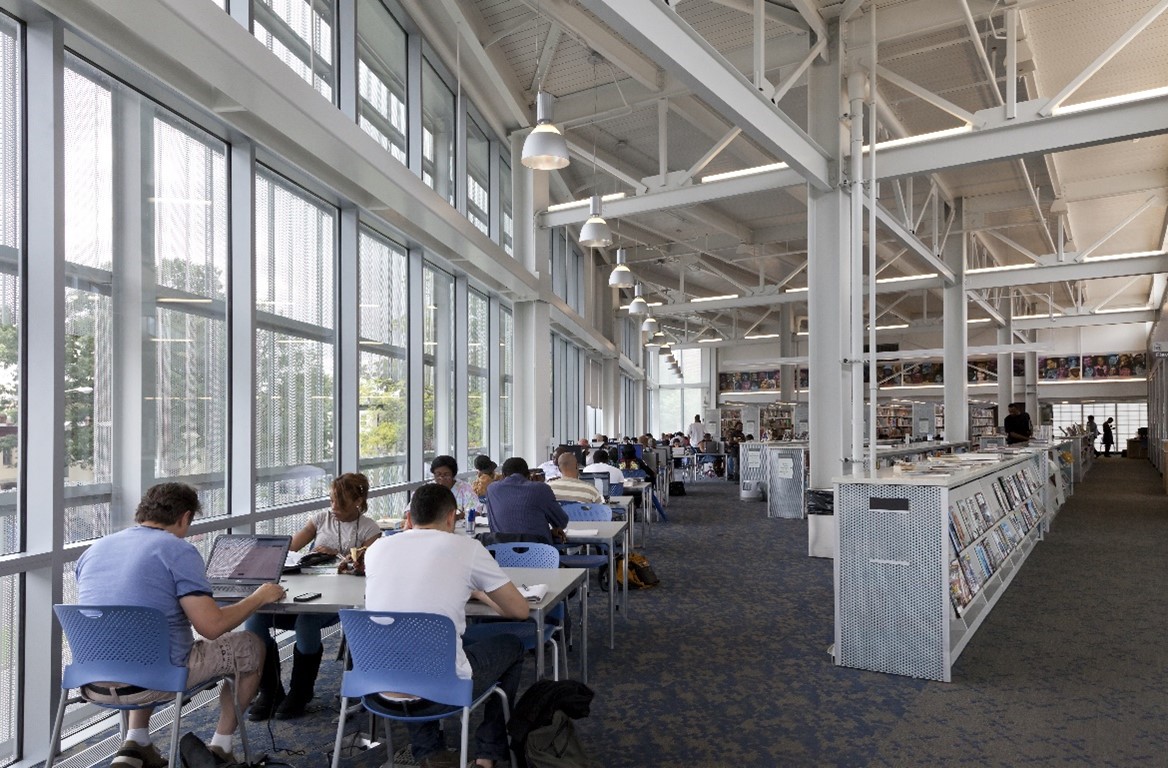 Image by Carol M. Highsmith, Public domain, via Wikimedia Commons
Easily accessible by transit, the top floor of this library offers an open workspace with a ton of natural light and free Wi-Fi. There are also individual study rooms where you can take meetings without disrupting the quiet nature of the library. The library is open from 10 am-6 pm Monday, Tuesday, Friday, and Saturday; 10 am-8 pm on Wednesday; 12 pm-8 pm on Thursday; and 1 pm-5 pm on Sunday.
How to Get There: The Howard-Shaw U metro station (green/yellow) is right across the street from this library on 8th and R St NW. In addition, two bus stops are located across the street at 7th & R (lines 70 & 79) and in front of the metro entrance (G8). The closest Capital Bikeshare station is also across the street in front of the Howard-Shaw U metro entrance at 8th and R St NW.
Coffee Shops/Cafes
Coffee shops have been used as a place to work remotely ever since remote work has existed—and for good reason. With free Wi-Fi, cozy seating, and an unlimited supply of coffee, it is like they are made for teleworking.
The Wydown (H Street)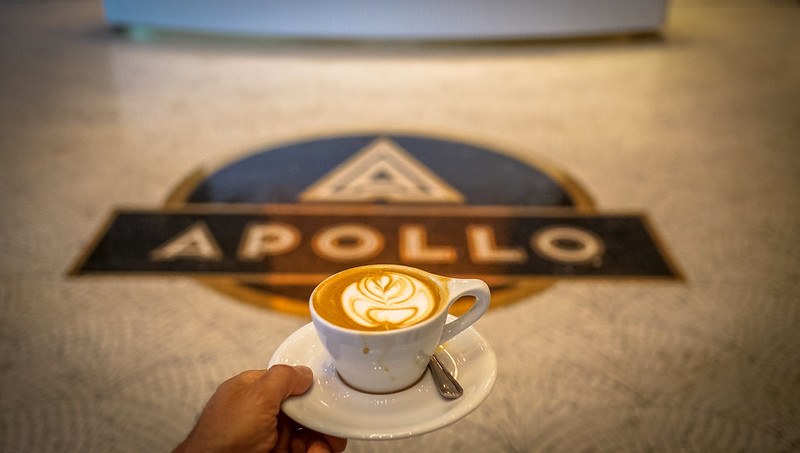 Image by Ted Eytan licensed under Creative Commons.
Located in the Apollo apartment building lobby, this coffee shop/bar provides three floors of cozy seating areas open to the public from 7 am-3 pm Monday and Tuesday and 7am-6 pm Friday and Saturday. This is only one of two locations, so be sure to check out the 14th Street location as well.
How to Get There: The nearest Metro station, Union Station (red) is a little under a mile away. Metrobus lines 90 & 92 are available at the H & 8th St NE bus stop while X2 is available at H & 6th St NE. Access to DC Streetcar's H/Benning Line is available about a block away at H & 8th St NE. Additionally, the closest Capital Bikeshare station is 6th & H St NE.
Lot 38 Espresso Bar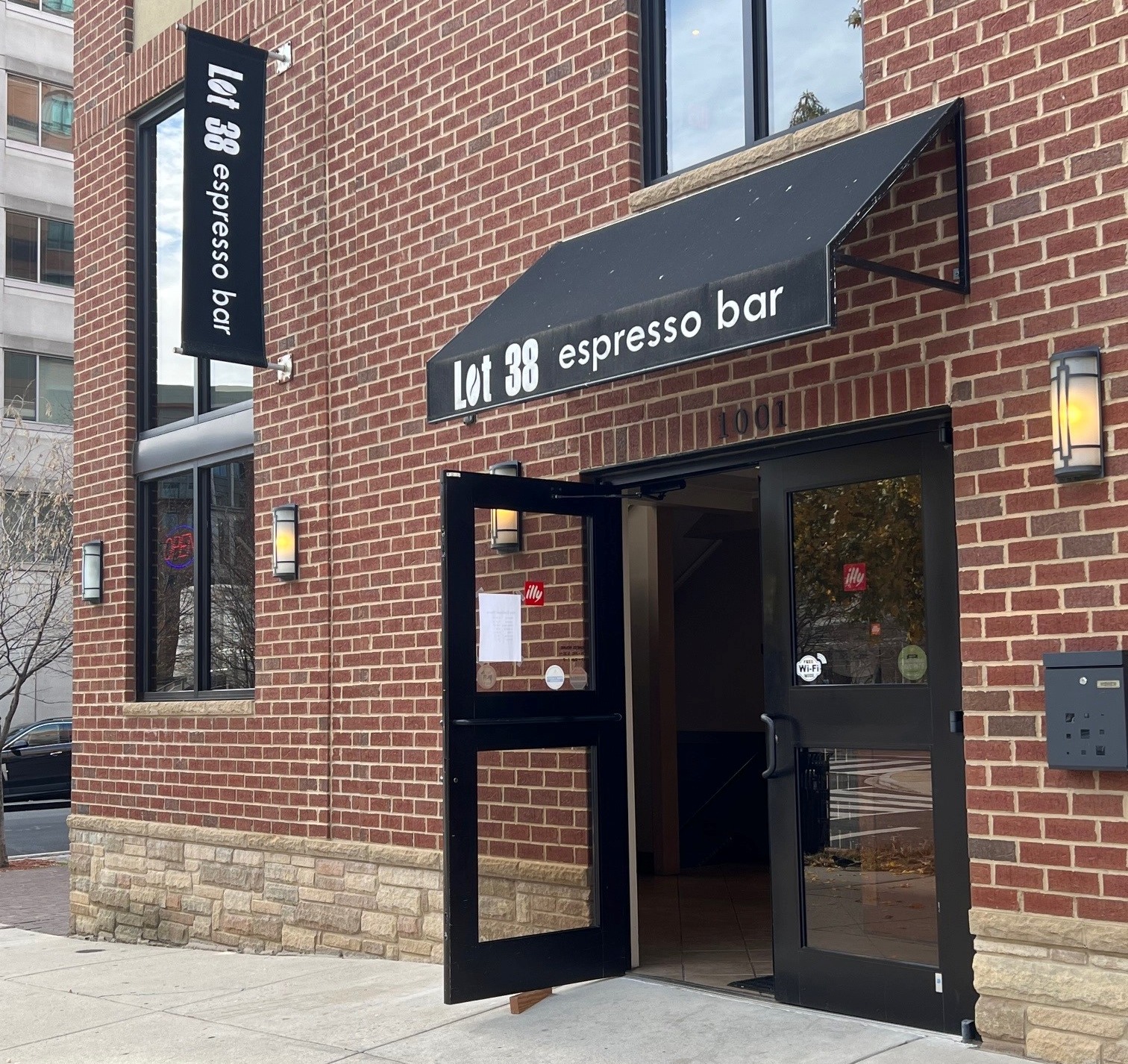 This Navy Yard coffee shop provides ample seating on the second level, free Wi-Fi, and Italian coffee drinks to keep you caffeinated while you work. Open from 6:30 am-2 pm, this espresso bar is a perfect spot for early birds.
How to Get There: The Navy Yard-Ballpark metro station is just a two-minute walk from this espresso bar. In addition, you can catch DC Circulator route EM-LP and Metrobus routes P6 and V4 outside of the metro station at M St & New Jersey Ave SE. The nearest Capital Bikeshare station is at 3rd & M St SE.

BONUS: Residential Teleworking Spaces
Although technically still working from "home," shared residential teleworking space is a great new amenity that is popping up in apartment buildings throughout the District. This allows you to be close to home but change up the scenery a little to help you focus. A big shoutout to some of goDCgo's newest platinum ambassadors that provide residential teleworking spaces in their buildings: Novel South, Capitol, The Residences at Eastern Market, Press House, Eckington Yards, One401, The Banks Apartment, 909 Capitol Yards, The Apartments at CityCenter, and One Hill South.