August 3, 2016
Foreign Tourist – A BIXI Bikeshare Story
The DC Metro area loves to head north for summer vacation to escape the heat and humidity. Many Capital Bikeshare members travel to Montreal in search of culture and cooler weather based on several reports received about a rogue Capital Bikeshare bike roaming its streets. What's the story here? Some kind of study-abroad program for Capital Bikeshare bikes? Capital Bikshare asked its friends at the BIXI Montreal system to get to the bottom of this great international mystery.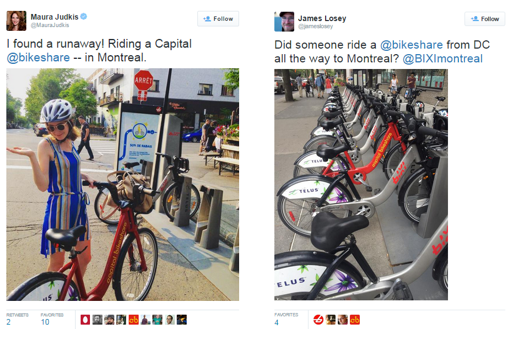 The supplier of Capital Bikeshare's stations and bikes is based in Montreal. It turns out that the French-Canadian versions of the District's familiar red bikes are part of a marketing scheme by BIXI Montreal to highlight all of the cities that use the same bikesharing technology. In addition to the 10, yes 10, Capital Bikeshare-styled bikes in operation amongst BIXI's 5,200 bike fleet, there are also bikes sporting the colors of Nice Ride Minnesota, BIXI Toronto, Barclays (now Santander) Cycle Hire London, and Melbourne Bike Share.
Since the debut in 2011, shortly after Capital Bikeshare officially launched in Washington, DC and Arlington, VA, the 10 Capital Bikeshare bikes have taken 18,697 trips covering more than 914 kilometers (567 miles). That's about the distance between Montreal and Washington, DC – taking 59 hours and costing about $958 in usage fees. Note this calculation doesn't include stops along the way.
So, if you're in Montreal and you spot a familiar red bicycle parked among its BIXI brethren, don't be surprised. Snap a picture and send it to Capital Bikeshare as a hello from its cousins in Canada! And go for a bike ride on the infamous red bikes while you're at it! It'll be like bringing a little piece of home with you.