August 3, 2016
Capital Bikeshare Corporate Membership Hits the Right Spot
In spring of 2015, local DC interactive agency, Threespot signed on as a "Gold-level" Capital Bikeshare corporate member. We decided to check in with Threespot's founder, Bill Barbot, to get a glimpse of how he and his employees have been enjoying the bikeshare benefit.
goDCgo: What was the catalyst for your firm becoming a Capital Bikeshare corporate member?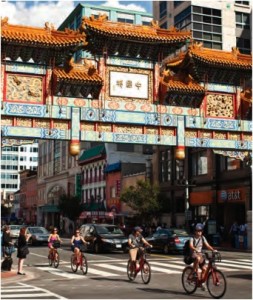 Threespot: Partly selfish. I like to take every opportunity I can to do something physical during the
workday, and I love the idea of hopping on a bike just to clear my head. But the other catalyst, the true motivation, was recognizing the positive effect offering this to our employees would have on morale, on our sense of community, on our carbon footprint, on our health…it's a pretty solid list of upsides with really no downsides. Besides, we moved from Columbia Heights to Chinatown in May, so giving my staff the ability to take bikeshare to work, to client meetings, or out to lunch no longer involves a trip up a massive hill to get back to the office.
goDCgo: What was the initial response when you announced this new employee benefit?
Threespot: Pumped! It made me kind of ashamed, to be honest, that we hadn't thought of it sooner. Not everyone uses the member benefit but (I think) everyone greatly appreciates that we offer it, even if they aren't cyclists.
goDCgo: How many employees are currently taking advantage of the bikeshare benefit?
Threespot: Right now 19 out of our 36 employees are currently enrolled in the bikeshare program!
goDCgo: Are employees discovering ways beyond the work commute to try out bikeshare? If yes, do you have a brief story of your favorite reason to use bikeshare?
Threespot: I live just outside the Beltway in Silver Spring and have kids in school and daycare, so I almost always need a car at the ready for various pickups/drop-offs all over the area. So my personal favorites include: (1) Biking to and from client meetings. Again, now that we don't have the massive hill to climb to return to the office from visits to our downtown clients, there's seldom a good reason not to ride a bike to meetings. (2) Lunch! It's a great "brain break" to be physically active, and when it means I can ride a Capital Bikeshare bike to Sundevich in Shaw or Bub and Pops on M street, I get some exercise, some fresh air AND an awesome sandwich out of the deal.
goDCgo: Active transportation (biking/walking) seems to be part of your agency's DNA. What other sustainable/commuter transportation options do you offer to your workforce?
Threespot: My co-founder and I both live in Silver Spring and are reluctant car commuters (see reasons above) but we recognized that in a city with so many great sustainable transportation options to get to and from work, it was a civic duty of our company to figure out ways to support our staff getting to and from work with minimal environmental impact. We've always made it a bragging right to have our office in DC proper, and since we've been close to Metro stations (we were one block from Columbia Heights for a decade until our relocation, and now we're adjacent to Gallery Place/Chinatown), we offer a transit benefits program through SmartBenefits to cover most of our employees – if not all – of their bus/rail commutes. We also subsidize gym memberships, health classes, etc. It's all a part of recognizing the importance of brain/body balance to creative work, and trying to be good corporate citizens at the same time.
goDCgo: If Jawbox wrote a song about bikeshare, what would it be called? (Editor's note: Bill Barbot was the guitarist for the legendary DC alt-rock band, Jawbox).
Threespot: Believe it or not, we actually had a song on our first album called, "Green Line Delayed" about the Metro, so a song about bikeshare wouldn't be outside the realm of possibility.
Interested in learning more about Capital Bikeshare corporate memberships for your organization? Simply call: 202-299-2186 or email us: info@godcgo.com and we'll get your employees on the road in no time!