November 26, 2019
Bike to Work Day 2016
by Korrea Johnston
Ever year, goDCgo participates in the annual Bike to Work Day (BTWD) celebration to help inspire first-time riders to spin their wheels, while also supporting everyday cyclists for making biking a habit. Biking to work is a healthy and safe alternative to driving alone. In case you missed it, this year's event was held on Friday, May 20, ultimately encouraging more than 17,000 commuters in the DC metro area to trade in their four wheels for a bike ride in the sun.
Commuter Connections, the Washington Area Bicyclist Association (WABA), and many other local organizations hosted 83 pit stops throughout Washington, DC, Maryland, and Virginia with free giveaways, t-shirts and refreshments, plus the chance to win great prizes. goDCgo, a proud sponsor of BTWD, staffed four pit stops:
Anacostia-National Park Service
Freedom Plaza
Farragut Square
National Geographic
While posted, we distributed countless new DC bicycle maps and helped cyclists master how to place their bike on DC Circulator's front rack. We also captured bike confessions from participating BTWD riders to share their experiences on the transition from driving a car to riding a bike.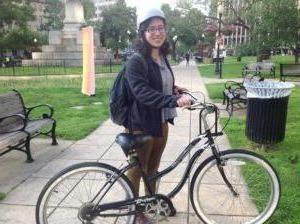 Michala –
"I just purchased my first bike on Craigslist. It came without a kickstand but that didn't stop me! It's great exercise and it saves so much time – a great alternative to Metro!"
Jamie –
"I left my car behind and signed up for Capital Bikeshare. I really enjoy the freedom of having a bike at my fingertips whenever I need it."
Did you attend this year's Bike to Work Day but don't see your snapshot? If you would like to be featured on our official BTWD 2016 recap, just email us your photo and pit stop location. We'd love to hear from you!