May 31, 2017
A Road Map for Sustainable Transportation
by Korrea Johnston
For many organizations including the 100+ participants in the Department of Energy and Environment's Smarter DC Challenge, sustainability is a key tenet of vision, mission and values. Earlier this month, goDCgo partnered with the Challenge to present a workshop on incorporating transportation into sustainability goals. Transportation accounted for 28% of greenhouse gas emissions in 2012 and those emissions are increasing faster than any cause, according to the EPA. So what can organizations do to facilitate change?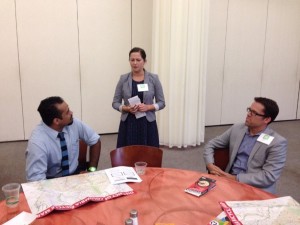 Public transportation helps save 1.4 billion gallons of fuel annually. Encouraging employees to commute via mass transit can make a huge impact. The Sustainable DC Act of 2014 includes a measure to reduce the cost of commuting by mass transit, requiring employers with 20 or more employees to offer pre-tax transit benefits. In addition to the environmental benefits of promoting alternative transportation, organizations win big with tax savings and improved employee retention.
Taking transit, biking and walking also have significant health benefits for employees. People who commute by public transit get twice as much daily exercise as commuters who drive alone. The US Surgeon General recently made a rare call-to-action to promote walkability and physical activity, encouraging organizations to "adopt policies and programs that promote walking, bicycling and use of public transportation (e.g. provide access to fitness equipment and facilities, bicycle racks, walking paths and changing facilities with showers)." More recommendations can be found at surgeongeneral.gov.
Your employees have more choices than ever for commuting and getting in and around the District. Here are just a few ideas for making sustainable transportation the easy choice:
Walking: Host a walking challenge or organize lunchtime walking groups; offer a taxable walking benefit.
Biking: Ask your building to offer secure bike parking and showers; consider offering the $20/month tax-free Bicycle Commuter Benefit and/or corporate Capital Bikeshare memberships.
Rail/bus: Offer tax-free transit benefits; keep bus and rail maps and brochures at your worksite and/or links available on your organization's intranet; help employees know their backup options with effective internal communications.
Carpool/vanpool: Share the link to Commuter Connections' free ridesharing database; offer reduced-fee or priority parking for employees who share the ride.
Telework: Update/create a formal policy and clearly communicate it to employees so they know what do in case of inclement weather or commute difficulties.
Car sharing: Sign up for corporate discounts with Zipcar, car2go, Enterprise CarShare and other vendors, both for company use and personal charges.
All transit modes: Spread the word about the region's FREE Guaranteed Ride Home program, which provides a free emergency ride up to four times a year for employees who use alternative transportation.
Many of these items will make your employees happy while earning you big points in the Smarter DC Challenge. Sign up today to take advantage of mentorship and educational opportunities and compete in a friendly District-wide sustainability competition.
Need assistance with any of these transportation-related items? Contact goDCgo for complimentary support: info@godcgo.com or call 202-299-2186.