November 26, 2019
6 Easy Steps to a More Bike-Friendly Workplace
by Samantha Huff
Encouraging your employees,
customers and visitors to bike is a great way to promote a healthy
workforce and an environmentally-friendly travel mode. But where do you start?
On October 6, goDCgo and the Washington Area Bicyclist Association (WABA) teamed up for a webinar and broke it down into 6 easy steps:
1. Understand the basics of DC biking.
Did you know that 97% of DC-area bike commuters are satisfied with their commutes, or that there are 100+ miles of bike lanes and off-street trails in the District? Knowing the basics helps you direct your employees to the best resources out there.
Tip: Email us to order free DC Bike Maps and Capital Bikeshare brochures for your front desk.
2. Improve your building's infrastructure.
DC's landmark zoning update, just enacted in September, requires commercial buildings to offer more – and better – bike parking and amenities. Use the data from an employee commute survey, a free service from goDCgo, to show your building management team how many people would benefit from upgrades!
Tip: DDOT can assist you with getting street-side bike racks for your visitors and staff – they'll even provide the racks and waive the permitting fee! Email us to get started.
3. Offer social and financial incentives.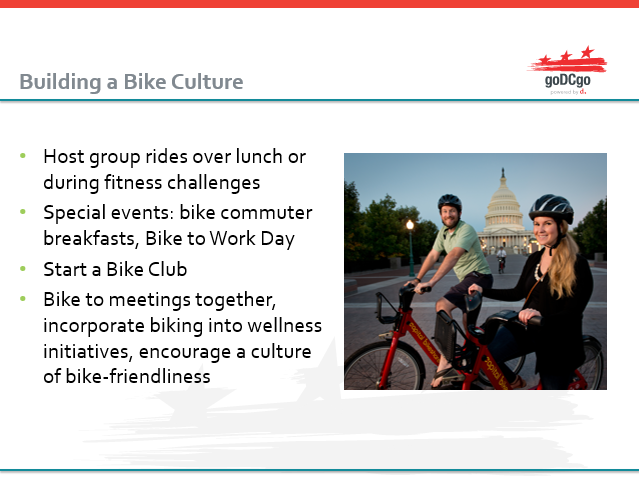 Build a company-wide bike culture by hosting lunchtime rides or using Capital Bikeshare to travel to nearby meetings together. Make the choice even easier by offering the $20/month tax-free Bike Commuter Benefit or Capital Bikeshare corporate memberships.
Tip: Host a fall "Bike Commuter Breakfast" to encourage employees to keep riding as the weather gets cooler. Share goDCgo's winter biking tips and encourage staff to share their own.
4. Educate your employees.
Doug Smith at WABA is dedicated to making biking easy and fun through education programs. Invite his team to your workplace for a lunchtime Everyday Biking Seminar or a more in-depth, on-bike class. Can you bike on sidewalks? What are the most comfortable routes to your office? How do you safely make a left turn from a bike lane? WABA has these answers and more.
Tip: Capital Bikeshare corporate members and WABA Business Members can take advantage of a FREE Everyday Biking seminar. Email us to book yours.
5. Get recognized!
Apply for the elite nation-wide designation of Bicycle Friendly Business or compete for local/regional distinctions from goDCgo, WABA and Commuter Connections. Stay tuned for more information about goDCgo's inaugural Employer Ambassador Awards in the coming weeks.
Tip: Bicycle Friendly Business applications are now open, with a deadline of January 18, 2017.
6. Learn from your peers.
Stay tuned to the latest innovations in bike-friendly workplaces and network with like-minded businesses by attending a goDCgo event, becoming a WABA Business Member, joining the Smarter DC Challenge and more.
Tip: Sign up for the goDCgo Employer Services newsletter for the latest updates.
Ready to get started? Contact goDCgo today for your complimentary consultation.