May 31, 2017
10 Facts about DC Circulator's New National Mall Route
by Korrea Johnston
Launched in 2005, the DC Circulator has been providing public transportation to the District's main attractions and most lively neighborhoods for business, culture, and entertainment for only $1 per ride. The Circulator services each stop every 10 minutes, providing simple, fast and affordable transit to residents, commuters, and visitors around the nation's capital. Celebrating a decade of affordable, comfortable, and efficient service, the Circulator system continues to expand and is now the fourth-largest bus system in the region.
History
The system began with the introduction of $1 bus service on the Georgetown – Union Station and Convention Center – SW Waterfront routes and in 2006, the system added the Smithsonian – National Gallery of Art route. In 2009, two more routes were added: Woodley Park – Adams Morgan – McPherson Square and Union Station – Navy Yard. In 2010, the system expanded beyond the borders of the District with the Dupont Circle – Rosslyn route. In 2011, the Potomac Ave Metro – Skyland route was introduced. However, also during this year, DDOT suspended the operation of both the Smithsonian – National Gallery of Art and Convention Center – SW Waterfront routes mainly due to low ridership. WMATA's Metrobus Route 74 replaced the Circulator Convention Center route.
New National Mall Route
As of June 2015, the system has expanded once again with new service along the National Mall providing visitors, commuters, and residents with door-to-door transportation to more than 25 museums, monuments, and memorials along the way.
Haven't tried the new National Mall route yet? Check out these 10 facts that are sure to get you up and going from Union Station to the Lincoln Memorial and back.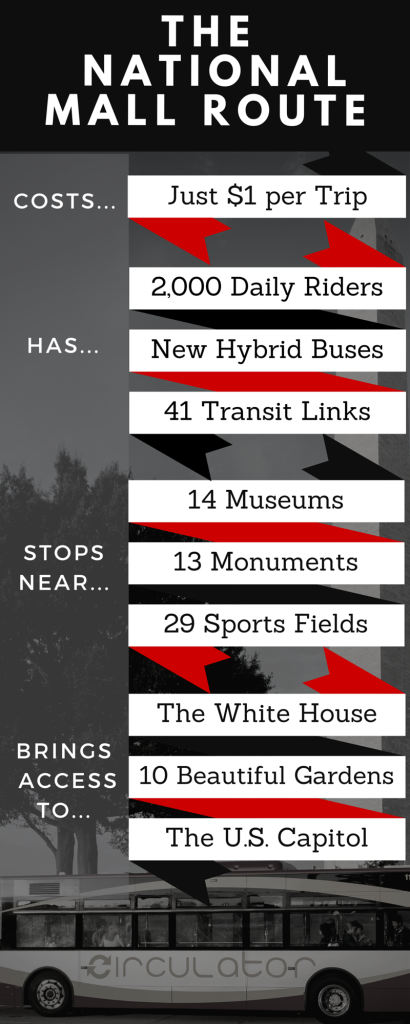 For more information on the new National Mall route, including a downloadable map with listed stops, visit nationalmall.dccirculator.com.